Are you looking forward to Christmas? We are too! Even more exciting, we're hoping to find people to come caroling with us on the night of the 15th of December. We'll be singing and promoting glass recycling on the streets for a stretch of time in the evening, so feel free to come for as long as you can!
The exact details are as follows:
Date: 15 December 2017 (Friday)
Time: 6:15PM – final rehearsal, 6:45PM – caroling starts, we expect it to last until 10:20PM
Meeting point: In front of Luard Road Refuse Collection Point (we'll be caroling around Wan Chai and Central)
Remarks: We'll be having an optional rehearsal on 11 December, from 7PM – 9PM. This will be held in our office: A6, 11/F., Fuk Cheong Factory Bldg., 1 Walnut St., Tai Kok Tsui, Kowloon.
Though you definitely do not need to be musically inclined to come join the fun, if you can play a certain instrument and are not adverse to the idea of playing for our group, please tell us! Additionally, if you want to offer your photography/videography skills, that is also most welcome.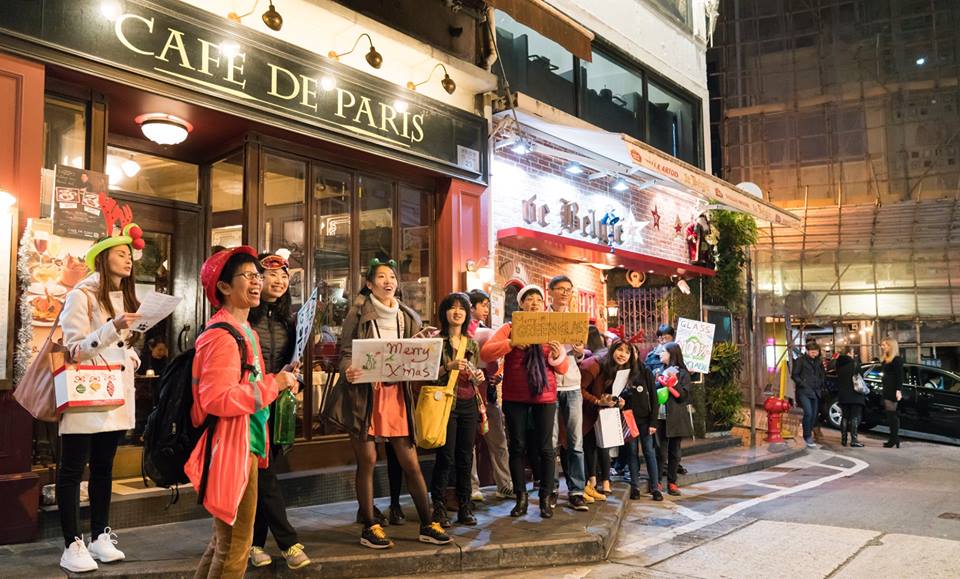 Here is a photo of us caroling last year – it was an extremely enjoyable and festive event, so we're hoping many of you will be able to come sing with us this year! If you are interested, please PM us on Facebook, or email us (greenglass365@gmail.com) or WhatsApp 5316 2907.
We look forward to spending a merry, musical evening with you!